Everything related to cryptocurrency and NFTs are extremely popular right now, which has motivated a lot of people to jump into the industry quickly. Because of this, the desire to make a website for promoting or selling NFTs is strong. Perhaps you want to make your own NFT marketplace? Or maybe you simply wish to share some of your favorite NFTs out there in a curated collection?
No matter the reason, building an NFT website has never been easier thanks to the use of HTML templates.
And if you're looking for some knock-out NFT templates to consider, you're in luck. We've compiled some of the best right here. But first, a word on our source of top-tier HTML templates.
Find the Best HTML Templates for NFT Websites on ThemeForest
You can choose from dozens of NFT templates currently available on ThemeForest, an online marketplace dedicated to providing high-quality templates for a multitude of projects.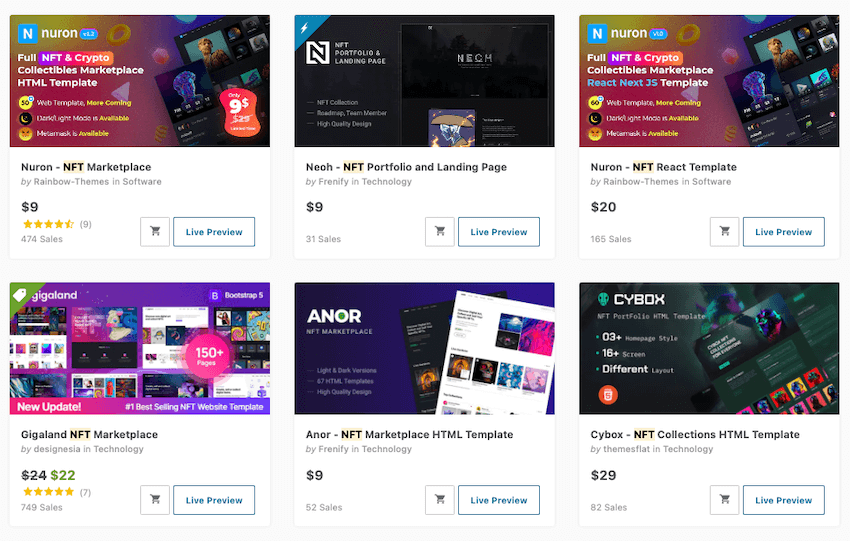 The marketplace is actually a part of the Envato Market, where you can find a plethora of resources for all sorts of creative projects, including everything from website templates to audio clips to vector art.
12 Best HTML Templates for NFT Websites in 2022
If you've come here looking for an NFT template for your website, your patience will be rewarded. What follows is a collection of some of our favorite NFT HTML templates you can put to work immediately.
Gigaland is a responsive HTML template that's perfect for creating an NFT marketplace or for selling other digital items. It comes preloaded with numerous styles you can use immediately and it's built on Bootstrap 5, uses CSS3 Animation, and more to create stunning effects.
Should you choose this template, you can expect to receive:
Over 150 different page templates (20 of which are homepage designs)
4 different color schemes
Responsive design and layouts
Animations on scrolling
Particle effects
Well-commented code
Lifetime of updates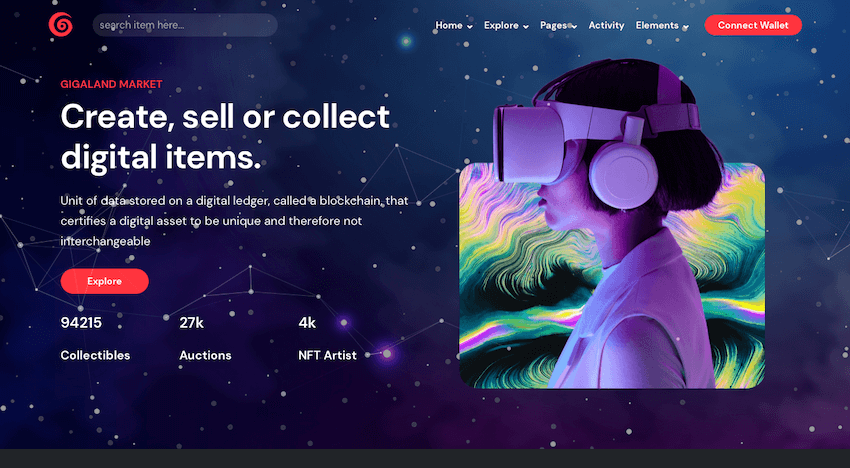 Next up is SaaSio, which is a one-page HTML template that can be used for any software-as-service product website, including NFTs. It's a multipurpose template that works for agencies, startups, and service-based companies but can also be leveraged for NFT marketplaces.
A few features you get right out of the box include:
More than 82 different homepage designs
Built on Bootstrap 4
Multiple demos for multiple purposes
Sticky menu
Smooth scrolling
Dedicated support
Free updates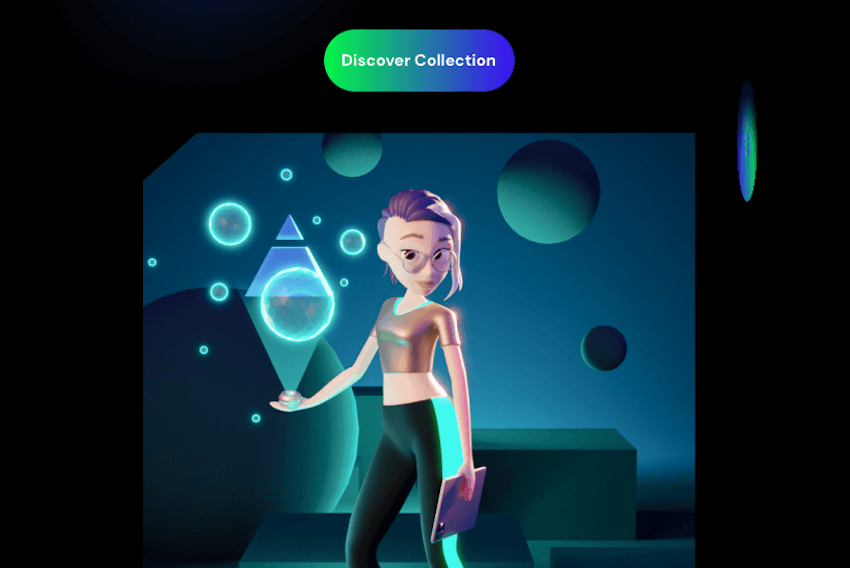 Another option is Nuron, which is a full HTML template designed with NFT marketplaces in mind. And though NFTs is the intention here, this template can be used for any kind of digital marketplaces including other crypto-collectibles, digital art, and DeFi websites.
A few standout features here include:
Built on Bootstrap 5 and SASS
SEO-ready
Light and dark options
Well-commented code
Well-documented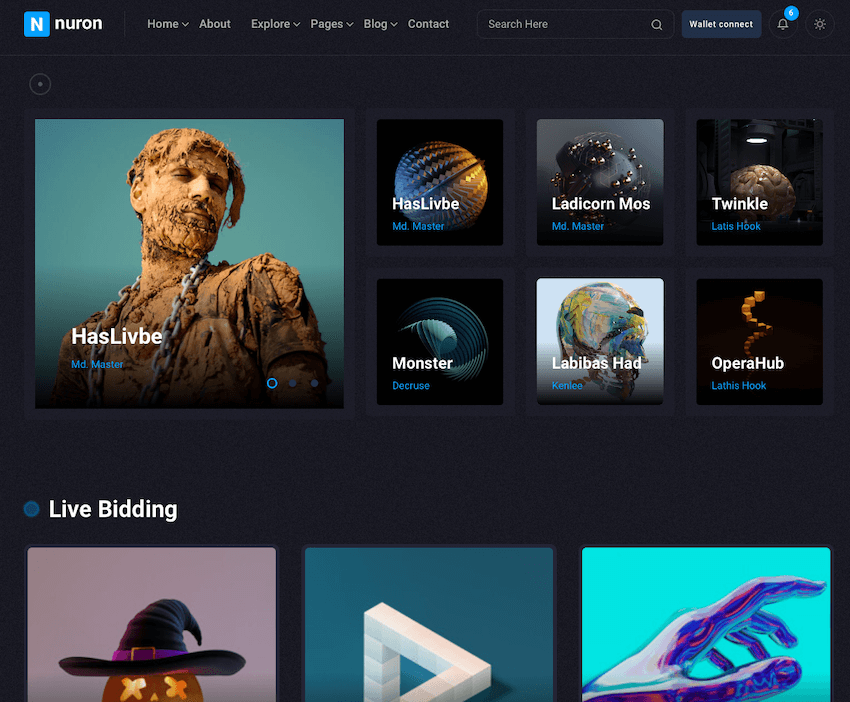 Or, perhaps Rarion is more your style? This NFT HTML template is a great choice for NFT marketplaces and includes the sort of creative design to back up such a claim. You can use it to sell any sort of digital goods from NFTs to virtual items.
Features you'll want to be aware of include:
6 different landing page designs
Multiple secondary pages
Built on Bootstrap 5
A modern design and overall aesthetic
Remixicon icon sets included
Multiple color palettes and components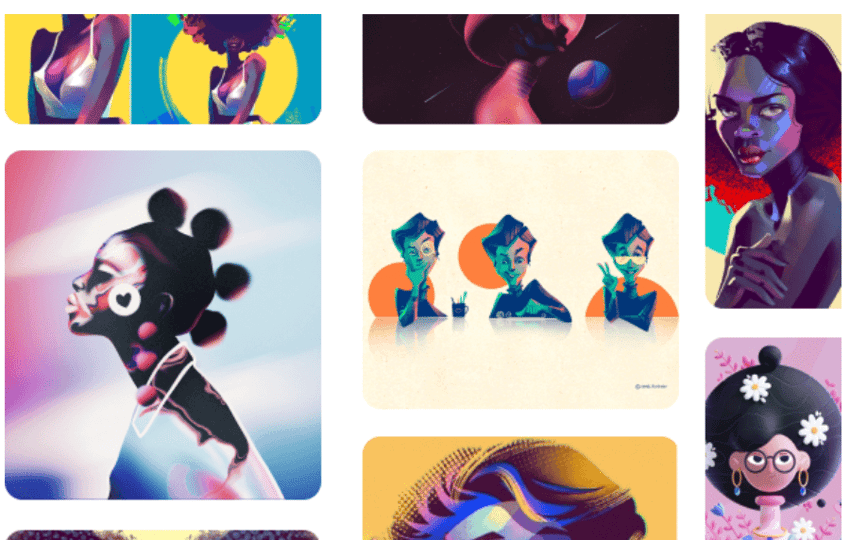 There's also the Vie HTML template, which is another multipurpose option that can be used for agencies, business startups, as well as digital online stores – including NFT websites. It comes with numerous demos and a responsive design that looks good on any device.
Some features to be aware of include:
Built on Bootstrap
Comes with a PHP contact form
SEO optimization
Font Awesome Icons
Google Fonts
Linea icons
Well-commented, documented and includes free updates.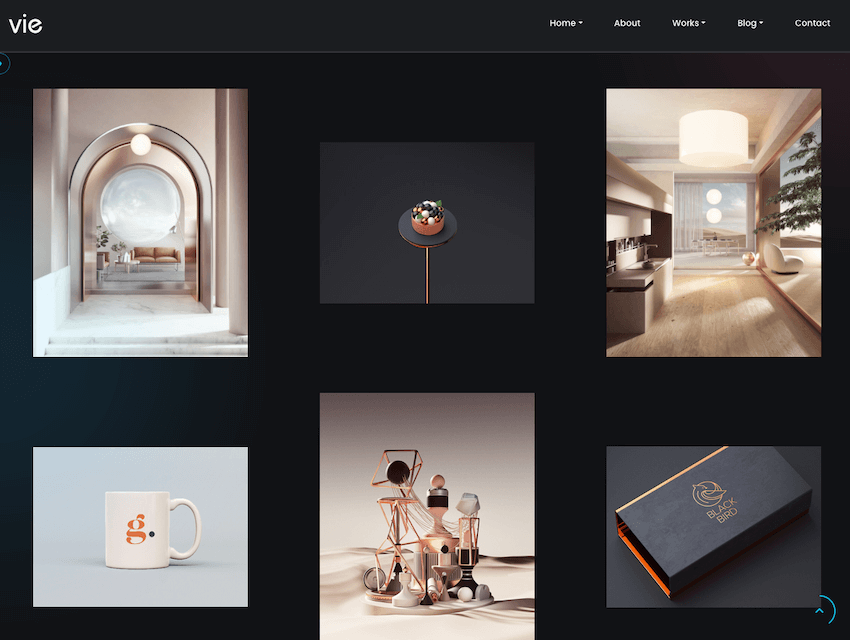 Still another option is Unitok. This HTML template is geared toward those wishing to create an NFT marketplace. It comes with an overall creative design that suits the NFT market well. And it's built on Bootstrap 4 so you know it'll be stable and reliable. Other features to note include:
Over 20 different page designs
Straightforward customization options
SEO optimized
Well-commented code
Stylus and JS files included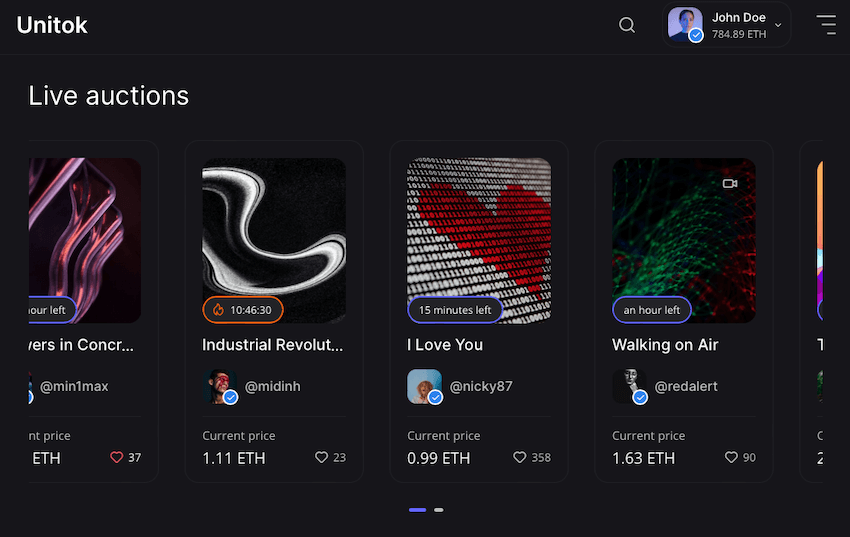 Another option is the Axies template, which offers the front-end HTML interface for an NFT store. To be clear, this does not include back-end support. However, it is still a great option for those looking for an NFT-specific website design. It comes with:
8 different homepage styles
Slider text
Scrolling options
Well-commented code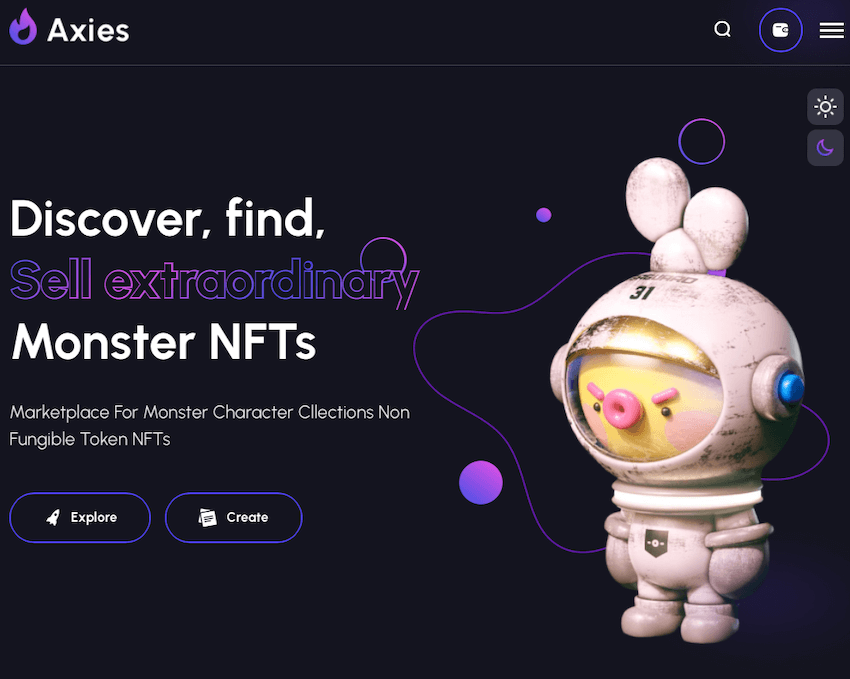 Or, you may wish to consider EnftyMart, an HTML template designed for NFT marketplaces, specifically. It can be used for selling crypto-collectibles and other digital assets as well. And it's built on Bootstrap 5 with Vanilla JS and SASS, so it's quite stable and well-coded and commented.
Features you should definitely know about include:
A user panel for NFT authors
Light and dark mode
A responsive and flexible design
3 homepage designs
Over 29 different inner page designs
An auction countdown timer
6 months of free support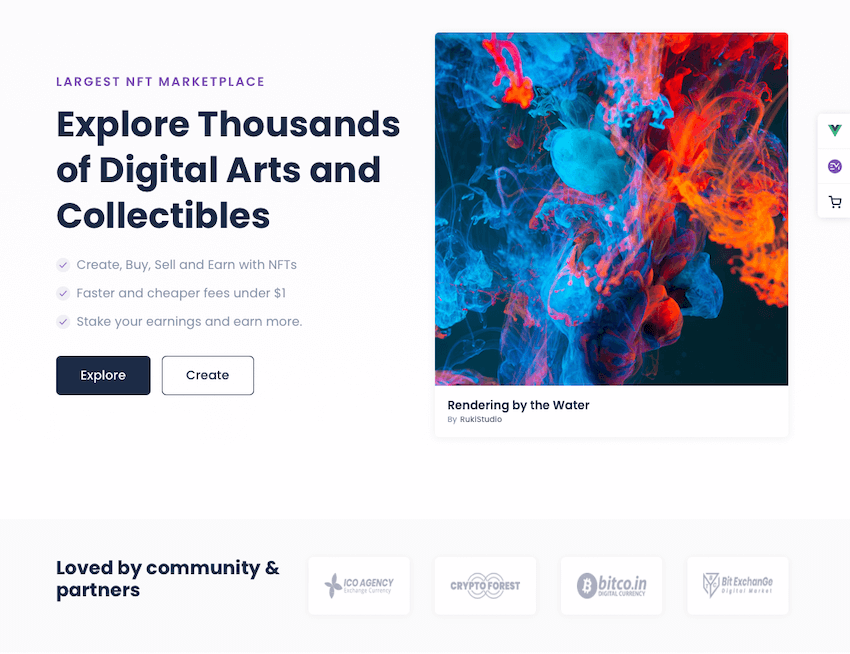 And then there's Ethoz, another NFT website HTML template that you can use for selling digital assets of any type. This one is built on HTML5, CSS3, and Bootstrap 5 + SASS and it promises a modern design and top-tier user experience.
A few specific features that really stand out include:
6 homepage designs
Over 20 different inner page designs
Numerous demos to choose from
Offers a modern and trendy-looking layout design
Well-commented code
Phosphor Icons
Google Fonts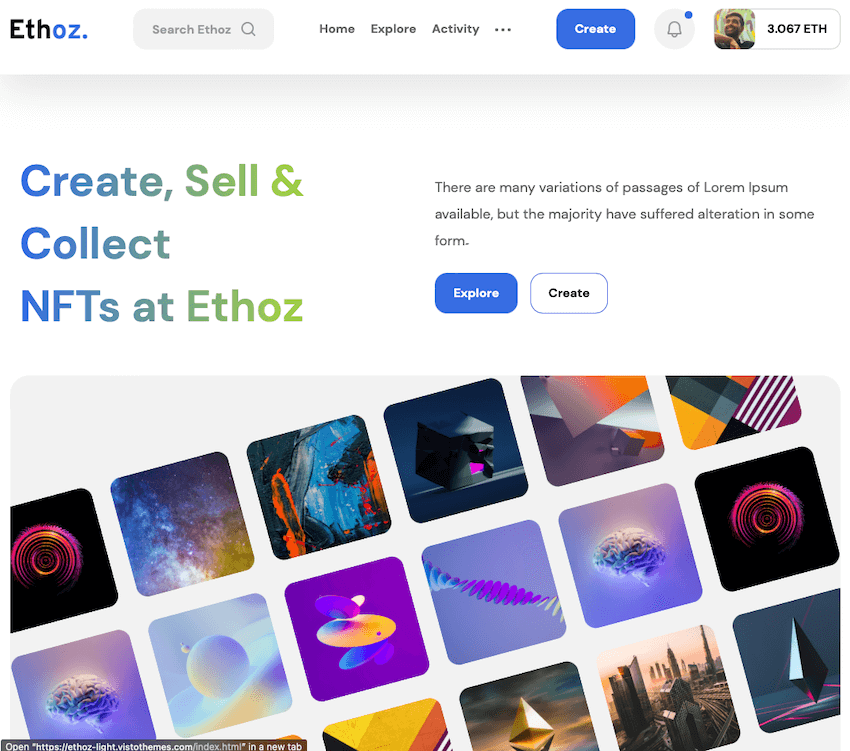 Another consideration would have to be the Monteno HTML template. This one is designed for portfolios, specifically NFT portfolios, and works perfectly for displaying all sorts of crypto art, digital art, collectibles, and NFTs. Important features to be aware of include:
Built with HTML 5 and CSS3
Includes unlimited colors
Boxed and wide layout options
Ajax contact form included
Parallax effects on scrolling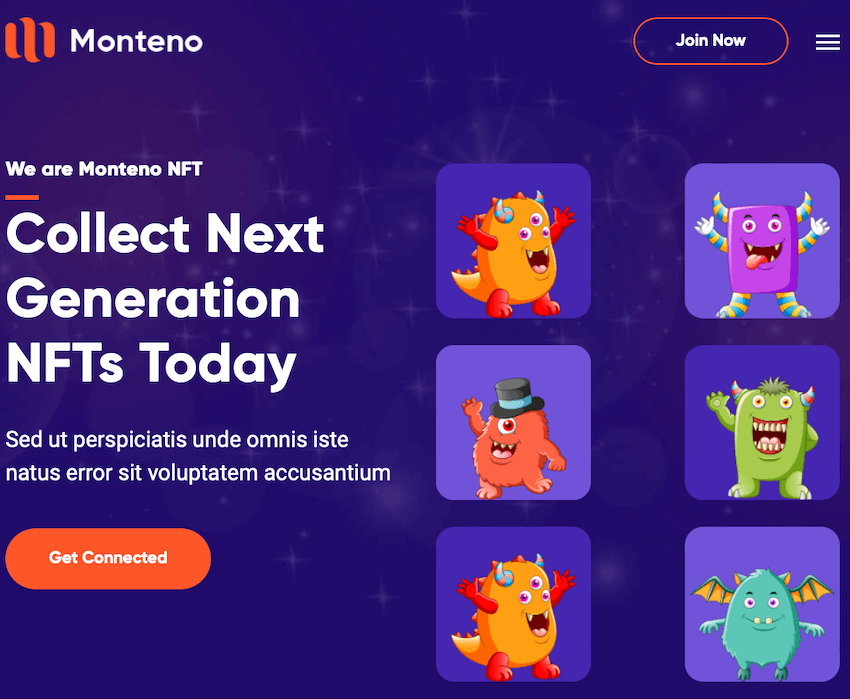 We'd be remiss if we didn't include Cybox on our list. This NFT portfolio template is another great way to display crypto and NFT art in a portfolio as well as for sale in an auction. You can easily use this template to create your own marketplace. A few features to know about include:
Built on HTML5 and CSS3
Easy customization options
Supports unlimited colors
Comes with a boxed and wide layout
Includes an Ajax contact form
Parallax effects on scrolling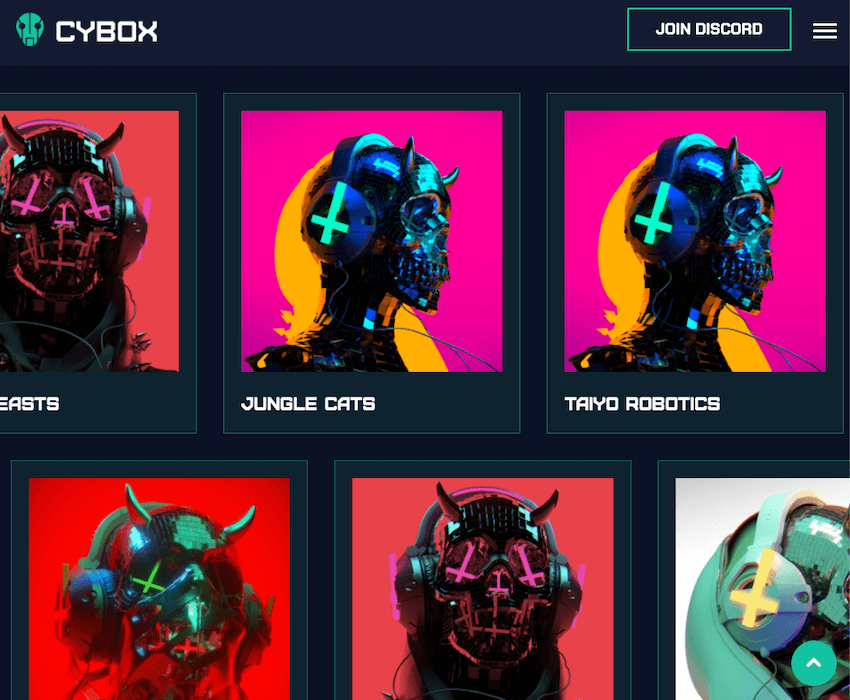 Last on our list here is the Cryptoki HTML template. This one can work well for creating an NFT marketplace or even for a shop just for your digital goods. With it you can display numerous versions of products, accept bids, allow authors to create profiles, and more.
Notable features include:
Stylish design
Light code that's well-commented
Super simple customization options
Dark and light modes included
SVG icons
Contact form
Subscriber form
Speed optimized
NFT-specific homepage design
Supports up to 4 different item versions
Multiple artworks and bid versions
Once you select a stellar NFT template, however, you still need to actually build your website. Luckily, we've got you covered in that regard, too.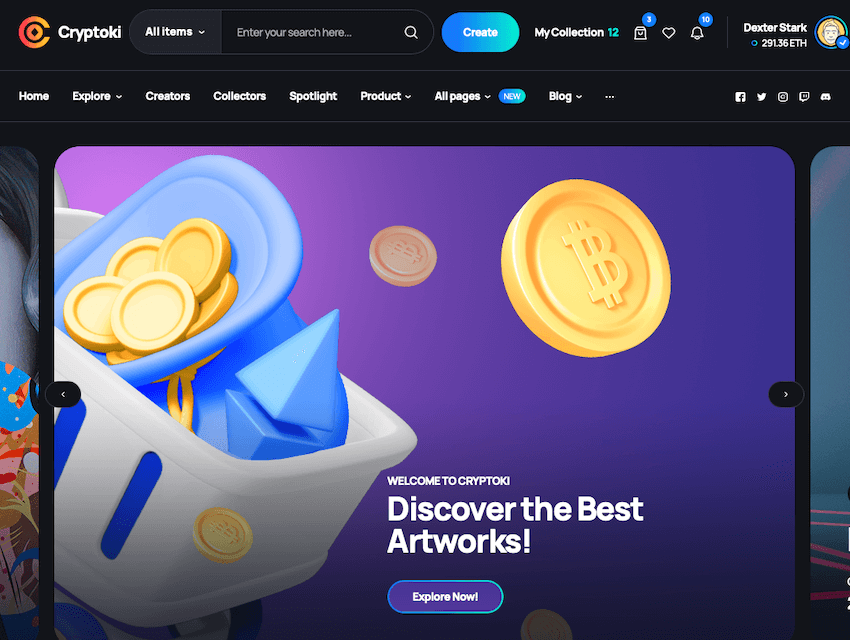 5 Tips to Build a Better NFT Website
With your freshly minted NFT template in hand, you can get to building your new website. What follows are our five top tips for building a better NFT website.
1. Pick a Niche
Though it's tempting to be a generalist, picking a niche is always a good idea – no matter the broad subject of your website. So when approaching the creation of an NFT website, you should do the same. That is, you should narrow down the types of NFTs you feature on your website. Or, you could aim to keep what's featured on your site thematically consistent.
No matter what niche you decide on, keep your focus specific and stick with it.
2. Consider Your Branding
Another way to boost the effectiveness of your NFT website is to pay mind to your overall branding. No matter the template you select, make sure you customize it to suit your brand's colors, fonts, and overall style.
This extends to your website's content as well. Make sure any content you include maintains a consistent voice and overall tone that's in keeping with your target audience.
3. Parallax Scrolling is Your Friend
Displaying an NFT gallery often means having content that loads dynamically on your website. Most often, this occurs when a site visitor scrolls down the website page. And this is accommodated through the use of parallax scrolling. Many of the templates we've included here support parallax scrolling, so it's unlikely you'd need to custom-code this feature yourself.
Parallax scrolling can make for a more interactive, faster-loading, and overall more pleasant experience for site visitors as they browse through larger catalogs of NFTs.
4. Optimize Navigation and Search
When creating an NFT website, you also need to pay careful attention to how the navigation and site search is set up. If you're going to be holding auctions or selling NFTs from this site, you need to make it as easy as possible for visitors to find what they're looking for.
5. Invest in Top-Notch Security
Lastly, ensuring your website is secure is a must, too, especially if you'll be collecting personal information from site visitors. Using a secure shopping cart system is a good start. Having encryption activated on your web hosting is another positive step. You should also make it a habit to conduct regular security checks, update passwords, and make updates to prevent potential security breaches.
Create Your Own NFT Website Today!
Hopefully you now have a better idea of how to go about creating an NFT website. And while you will need to populate it with content, you don't have to go it alone. By using an HTML template with a NFT-inspired design, you can save a lot of time and get your website up and running quickly and easily.
And since you can find plenty of HTML templates to choose from on ThemeForest, the process has never been simpler. So why not dive in and start making your future NFT website right now?
More Crypto and NFT Template Collections