Even though businesses have social media accounts, many people will likely question the legitimacy of the products and services they offer.
Verisign even discovered that 84% of consumers nowadays think that a website with an aesthetically pleasing web design can make a business look more professional and credible.
Not to mention, most online experiences begin with search engines. Apart from Google, other people also use Yahoo!, Bing, Baidu, and many more. In that case, you can expect more people to come across your business when you have a website.
Instead of doing website creation yourself, engage professionals to help set up a website for your business. The problem, however, is who you should hire between a website developer and a website designer? We explain in detail for you to find out the difference.
What Is A Web Developer?
A website developer in Nigeria is an expert in programming. They use coding languages like HTML, PHP, JavaScript, CSS, Python, SQL, Ruby, jQuery, C#, and many more to build a website from the ground up. It turns web design ideas and concepts created by a website designer into reality.
To guarantee a website will not crash due to the number of people visiting and browsing through web pages, a website developer's job is to maintain a website's core structure to remain fully functional.
That is when web maintenance will come in, which is after the website development process and after the website has already gone live.
Types Of Web Developers
Each web developer's job is different. Their tasks ultimately depend on their respective part of the website development, such as front-end, back-end, and full-stack.
Below are the different types of website developers and their roles in website creation.
Front-End
The job of a front-end website developer is to program the visual elements of a website, which are the features that visitors will see when browsing through the web pages. Since their role will most likely overlap with web designers, front-end website developers tend to collaborate with them simultaneously.
Back-End
As its name suggests, back-end website developers are programmers that work behind the scenes of website creation, and their main job is to guarantee that the entire website will function properly.
The back-end website developer will check if the coding connects the website to the web server and the data flows without interruption to guarantee that a customer's transaction will proceed correctly.
Full-Stack
This type of website developer, on the other hand, is a jack of all trades. That means they can do the jobs of front-end and back-end website developers.
What Are The Skill Sets Of A Website Developer?
Experience in website testing and debugging, knowledge in content management systems, attention to detail, explaining technical matters clearly, strong numerical and creative skills
What Is A Web Designer?
Unlike a website developer, a web designer is someone who can make a website look aesthetically pleasing. The nature of their work mostly involves improving the appearance and entire layout of the website while ensuring it will be user-friendly.
Since a business's website has something to do with the brand image, a website designer often meets up with the client to discuss the overall look and feel of a website.
Afterward, a website designer will use Adobe XD, Illustrator, DreamWeaver, and Sketch to illustrate the web design layout with the agreed color scheme, font style, and features.
Types Of Web Designers
When it comes to designing a website, web designers usually have specialization. Knowing the differences between the types of web designers will help you determine which one you should engage in for your business's website creation in Singapore.
●    User Experience (UX)
The role of a UX web designer is to figure out how the users will have a great experience as they interact with the elements and features of a website.
As much as possible, they will try to imagine the overall experience of a user from the moment they land on a website, browse through the web pages and make a purchase.
A UX web designer will start their job by creating charts for user pathways and planning the information architecture. Before they can do all these, they will research to learn more about their client's business industry.
●    User Interface (UI)
A UI web designer concentrates on creating the look of a website and its web pages using the user journey maps that the UX web designer has provided.
They will be the ones to organize the page layout, choose color schemes, customize typography, and create interactive interface elements such as scrollers, buttons, toggles, and drop-down menus. All of these will help a website become aesthetically pleasing and encourage the visitors to stay much longer.
●    Visual Designer
Like full-stack website developers, visual designers are also a jack of all trades; they can work on the UX and UI aspects of website development. A visual designer always guarantees to find the balance between aesthetically pleasing web design and well functioning website.
What Are the Skills Set of a Web Designer?
Knowledge of coding language (optional)Understand the principles of web design know color theory and typography use various design tools and software highly skilled in interactive animation
The Differences Between Website Developers and Website Designers
The roles of a website developer and website designer are different in many ways, but they are both necessary for website creation. Shown below is a comparison of the differences between the two.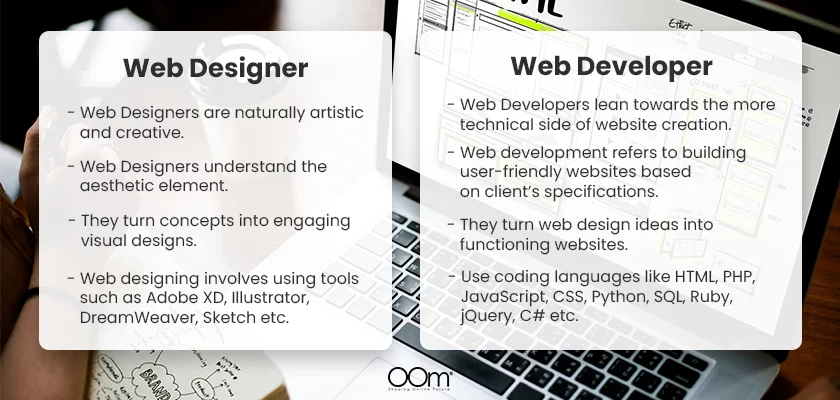 Which One Do You Need to Hire for Your Business's Website Creation?
Even though the roles of a website developer and web designer are different, they are equally vital for website creation. Hiring both can help create an aesthetically pleasing web design and a well-functioning website that can capture the attention of your target audience.
After all, 94% of first impressions will come from a website's visual aspects, followed by the navigation process.
Contact us if you need help building your website.