Want to streamline how you manage client projects?
Successfully delivering projects on time is all about being organized and cutting out obstacles to efficiency. For this to happen, everyone involved must be on the same page.
Here is where Projectopia comes in handy!
Projectopia is one of the best project management plugins for small businesses and freelancers who use WordPress. What makes it perfect is that you can manage projects directly from your WordPress admin.
Projectopia offers a collaborative environment where teams involved in the project can be on the same page. This means clients, project managers, and project teams know what is going on with the project at all times.
How does this work?
A common portal is created for each project.
This portal becomes a collaborative environment where every aspect of the project is in one place: communications, planning, execution, and delivery.
It is accessible to everyone involved in the project: clients, project managers, and project teams.
What happens inside of this portal that is dedicated to the project?
communication between stakeholders
goals and objectives are agreed upon
tasks are assigned
changes in the project are communicated, agreed upon, and approved
progress is monitored
invoices are issued
payments are made
With Projectopia, you can create unlimited projects, for unlimited clients, with unlimited users on the system at once.
Try the live demo and see for yourself!

Before we go into a detailed look at Projectopia's features, here is a summary:
workflow control
role-based team members
client dashboard
project and milestones
quote and estimates
form builder
tasks with timers
ticketing
automated invoicing
Installing Projectopia
You can easily install this plugin by following this process:
Go to your WordPress website, and click on the Plugins section.
On the right side corner, click on Add Plugins and search Projectopia. You will find the Projectopia plugin in search results. Just click on Install and then activate it.
You're all set! You can now easily manage your workflow control as well as the client's invoices too. You can unlock all its amazing features by buying a regular and extended license.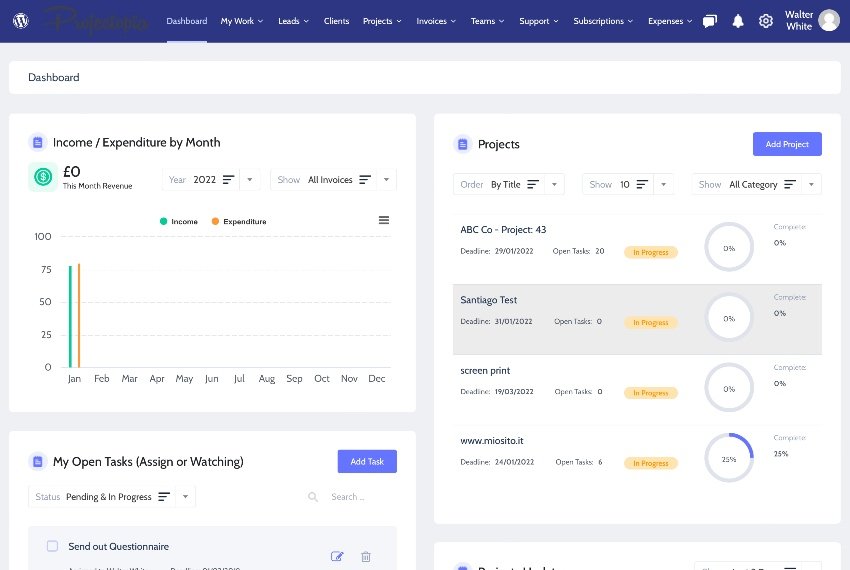 Projectopia is the ideal plugin that will give you an efficient and effective system that will make managing all aspects of your project a breeze.
Let's look at the core Projectopia features:
Client Management
There are two parts to the client management module on Projectopia: the Client Dashboard and the Admin Dashboard.
The Client Dashboard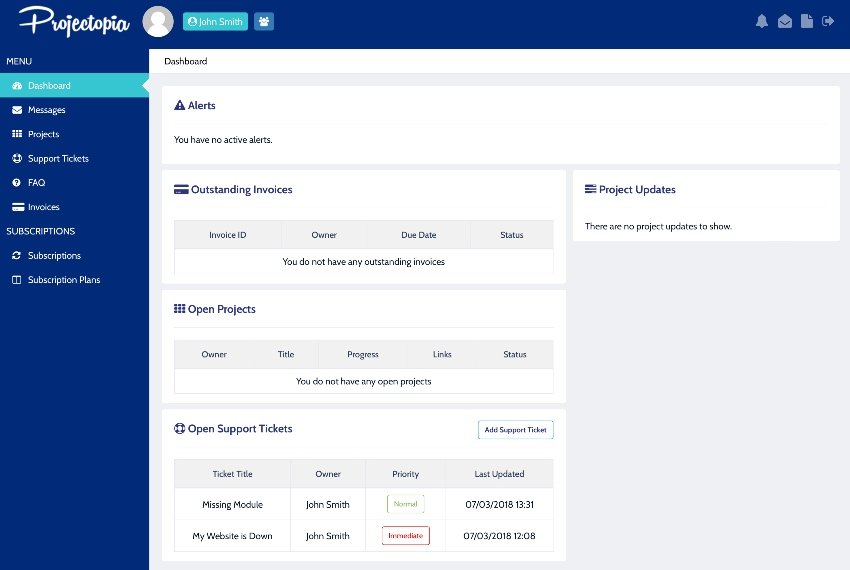 Clients are provided with their own area where they can access and follow progress of the project. Here they can see all information concerning the project for example the project timeline, updates, financial, milestones, tasks and files which they can download as PDFs. They'll be able to view all quotes, invoices, projects, tasks and support tickets.
Clients can set up their own alert and notification and even customize them. They will receive alerts on the dashboard. Alerts ensure they don't miss anything new. These are useful whenever there is any message regarding the project. They can set up dashboard alerts for quotes, projects, invoices and support tickets.
Projectopia has a built-in system of notifications to make sure no one involved in a project misses anything.
Here is how the alerts or notifications will appear on the client dashboard.

If the client has a team assigned to the project, they could be your points of contact. The client simply needs to add team members. The members will be able to login using their own passwords.
The dashboard doesn't have to be boring and uninspiring. They can spruce it up and make it their own by means of attractive themes provided by Projectopia or they can simply add a theme of their own. They can go further and personalize the dashboard by adding their physical address, email, photo, and photo. The login area can be branded with their logo, colors, and so on.
The client can pay for invoices from inside the client dashboard through PayPal or Stripe.
Client Management in the Admin Dashboard
The Admin Dashboard has a client section as well.
This is where you to create new client accounts and add their details like phone numbers, email, and so on
You can also:
write notes about them and the project they hired you to do
set invoicing terms
set up tax exclusion details
set up recurring invoice for your client
execute currency overrides for each client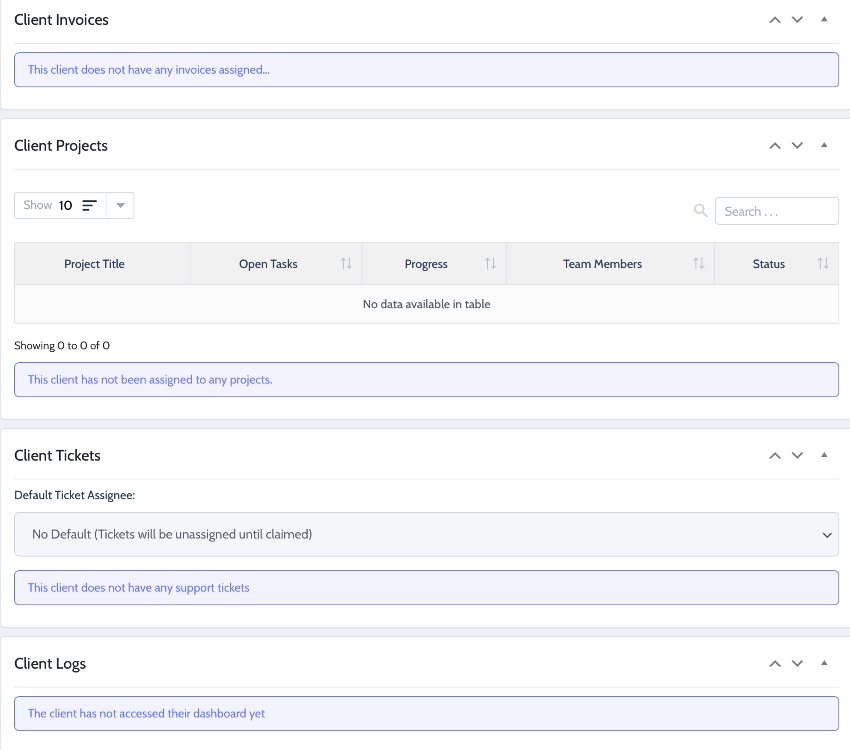 Once you have set up a client, it's advisable to create extra logins for them so they can add their own team members. You will need to ask client for additional contacts that will be required to create extra logins. And if the client needs a password reset, this is also the section where you approve it.
Setting up notification so you can keep up to date on communications between you and your clients and all activities related to the project is important.
Finally, the client section of the admin is where you upload all ongoing project files on the client account.
Quotes and Estimates
Clients will ask for a project quote by filling the quote request form from their dashboard. The milestone and task templates allow you to customize the quote based on specifics of a particular project. They also make it easy for you to break down the projects into tasks and subtasks for the client to see what each step of the project will cost.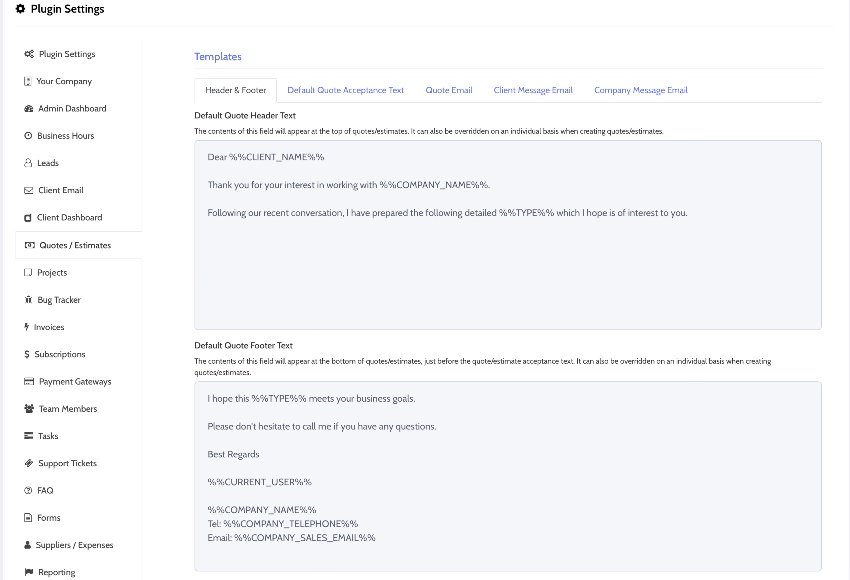 On the quote form, you will specify the deposit percentage or down payment the client should pay for the project to begin and also override currency.
Because the quote process is not static but involves back and forth with the client, you can reorder milestones and tasks.
You also have a terms and conditions template where you write out legally binding expectations that will govern the project when finally gets going.
Clients can accept and sign quotes from their dashboard area with their name, date, and IP address recorded. Once quotes are accepted you can generate the project on the system. You can configure this to generate the project automatically upon the client's acceptance.
Projects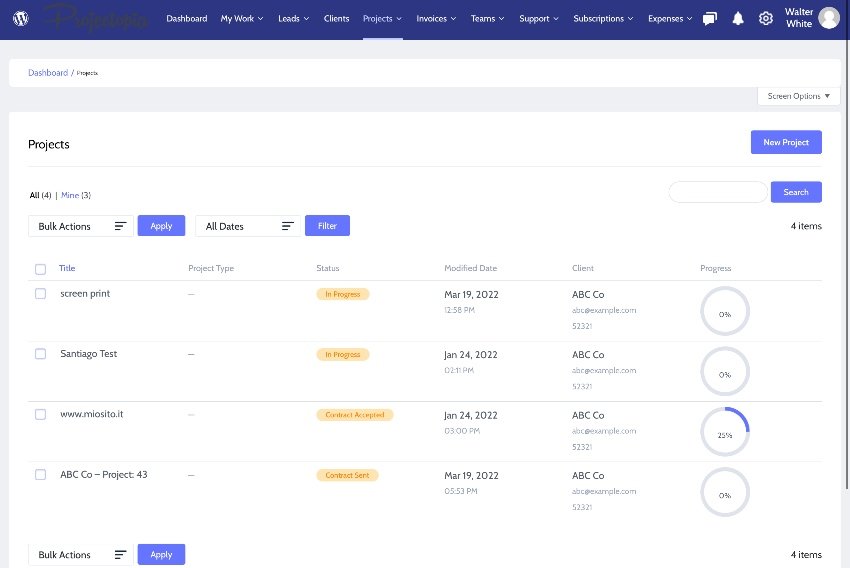 Projectopia provides a system with an organized workflow that automates repetitive tasks and monitors the progress of all projects involved.
The project section is the main hub of the project. On the project dashboard, there is a contract signing feature for clients to sign contracts easily on the client-side of the dashboard. They can choose whether they want to pay upfront or split the invoice and pay per milestone.
You and the client will be able to see financial tables with milestones and cost and payments made and received. It is also where you assign tasks to a client or you can assign tasks internally to your own team.
Here you can add team members and give them access based on their role. You can also add multiples members to a project.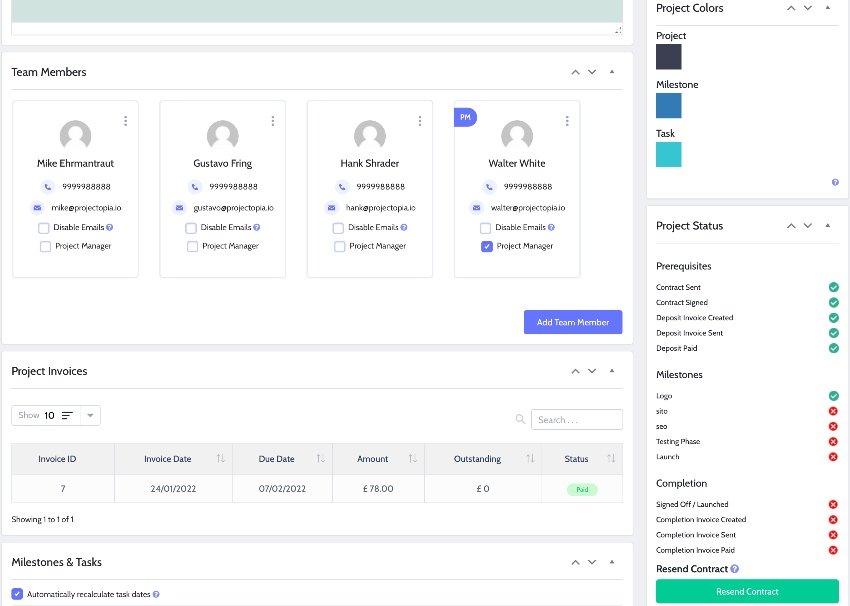 From there you can you can use the Milestones & Tasks template to assign each team member their milestones and tasks.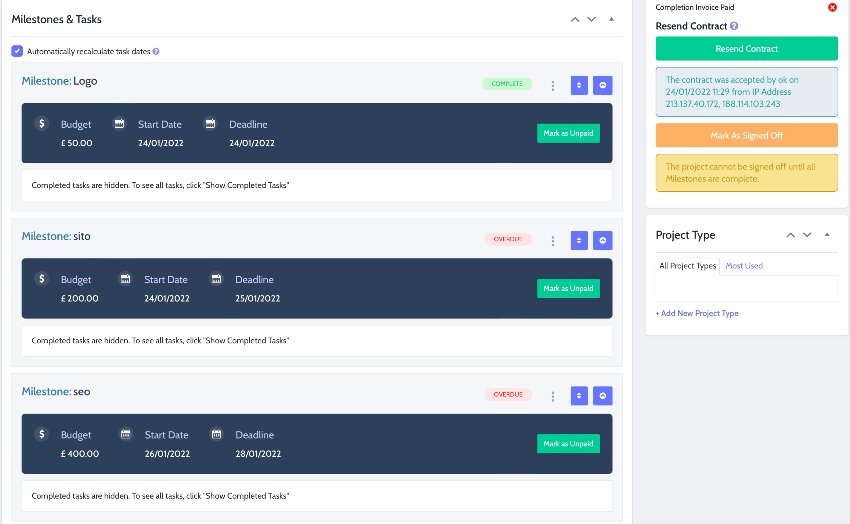 Keeping track—both for you and the client—is easy thanks to project update timeline and task progress bars. And don't forget you can reorder their milestones and tasks.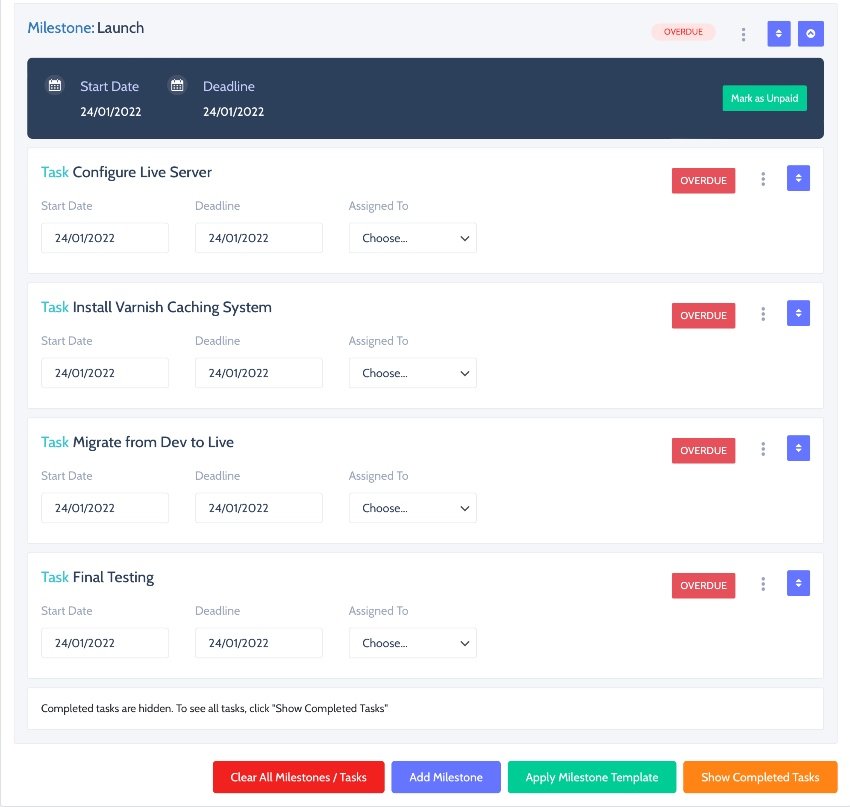 Another useful feature is that messages on the projects can be sent back and forth.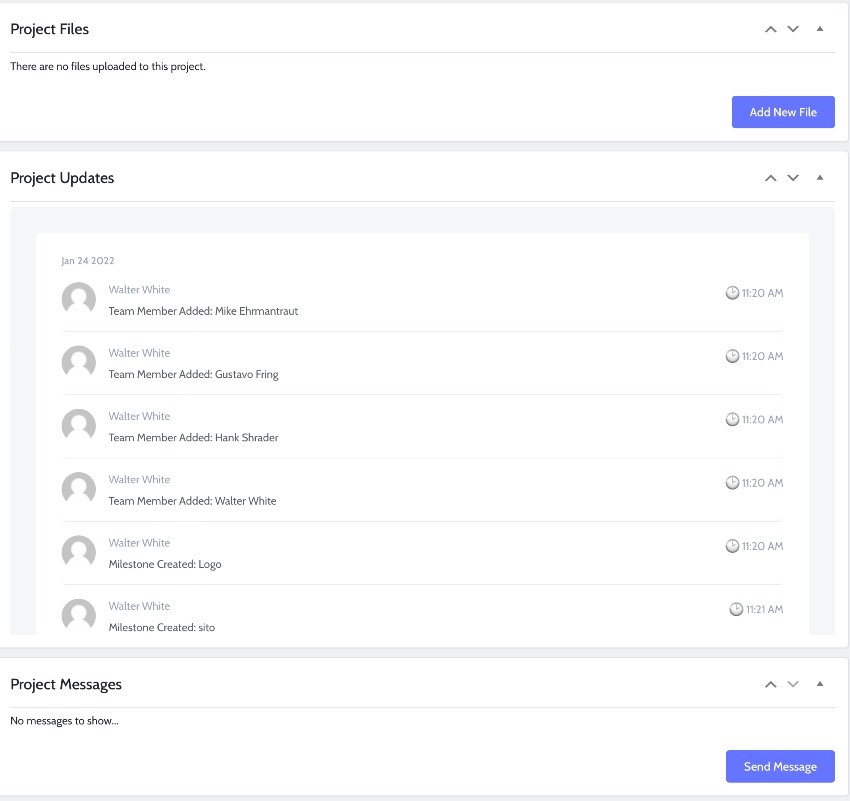 Tasks
The project manager assigns tasks to team members and adds tasks to the team dashboard with start dates and deadlines. The tasks are assigned priority and status. Work on tasks can be timed using JQuery timers or you can add time manually. Also note, that you can also assign tasks to clients.
In addition, this section is where task files are uploaded and task messages are exchanged. Because Projectopia has email piping, it is easy to reply to task messages via email.
As a project manager, you can create and manage your own tasks too!
Invoices
The invoice section has form templates with multiple invoice designs so you can create your invoice, and organize how you want it to look. The form templates with multiple invoice designs. The forms include custom fields to help you number your invoices or set up sales tax and other secondary taxes.
You can set reminders for when invoices are to be sent out to clients. They can be sent by email as PDFs. They can also be downloaded. You can also set up recurring invoices. You can create a notification to alert you when a payment is made.
Clients can pay by PayPal or Stripe. You can set up partial invoice payment. The system allows for manual payment entry including notes about the payment and payment date.
Team Members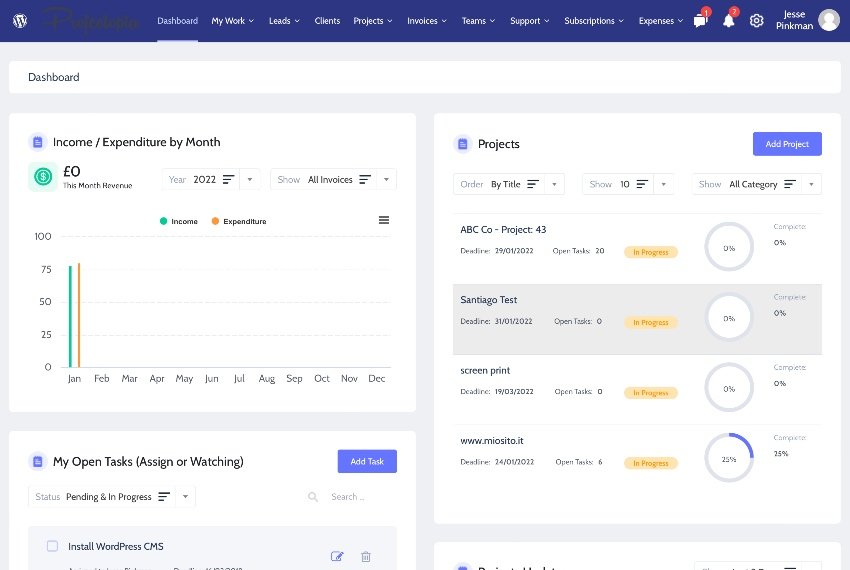 This is the section where you add team members to the project and assign them roles. You set permission to see only projects and tasks they are assigned. Team members can set their own profiles and choose their avatars. They can view outstanding assigned projects, tasks, tickets, etc. There is also a task timer that you can enable for each task.
Finally, to help team members stay organized and keep track of deadlines, milestones, meetings, and so on, this section is also equipped with a built-in calendar.
Support Tickets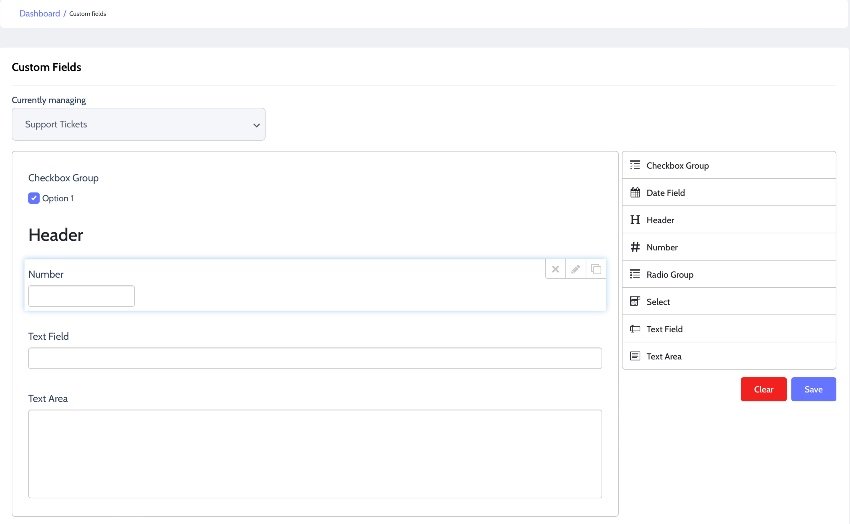 When working on a project, issues will come up that need to be fixed. The support ticket system on Projectopia will help you prioritize how the issues are addressed and fixed. It is equipped with forms and fields that allow you to create a support ticket. It supports custom fields and uploading files.
The admin and clients can raise support tickets. Clients do this in the client account area. Also, thanks to email piping, support requests sent via email are automatically added to the system and assigned tickets. Support tickets from clients go straight to the project admin who then assigns the tickets to particular team members.
Everyone will be able to see which team member is assigned what ticket, the status of the ticket, and the priority level given to the ticket. In addition, they can see the response for each ticket and when the response has been read, it will be indicated as seen.
Robust Ecosystem of Add-ons
Finally, Projectopia has an ecosystem of add-ons that can be used to expand further the functionality and capabilities of this already comprehensive WordPress project management plugin.

But that's not all. It comes with very detailed documentation and the website blog has tutorials that get you up to speed on how to use Projectopia.
Projectopia is fully translatable and supports PO/MO files. It also supports PHP gettext functions. Finally, Projectopia does not interfere with your theme.
Conclusion
The promise of Projectopia is to streamline how you manage projects so that everyone involved can literally be on the same page.
If you're a small business or freelancer, Projectopia is the best choice for a project management system because you just need to install and run it from your WordPress panel. It has all the project management tools you need to manage and deliver projects on time and within budget.
Check out some of our other project management resources on Envato Tuts+: